HIGHLY RECOMMENDED!
Free electronic Bible software with many different
free Bible versions.

It also has many different Commentaries, and Dictionaries.
Blue Letter Bible has lots of free Resources




The Blue Letter Bible now has over 4,000,000 links on site to over
165,000 pages
of
concordances, lexicons, dictionaries, commentaries, images, and Bible versions!


This software is very much like E-Sword. The software is free,

however not
everything they offer is free though.
Bible software with over 1400 volumes available.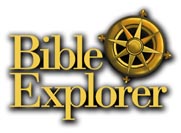 It also has different Commentaries, Maps
Dictionaries, Devotionals Study Helps, and much more


Bible Gateway has allot of free Bible Resources

Such as Audio Bibles, Verse of The Day, Commentaries,
Dictionaries, Study Tools, and E- Books,

and many different Bible Versions.